| | | |
| --- | --- | --- |
| | | |
| | | |
| | | |
Photo by Matthew Gregoire @BreakngNewsPhtg, providencefirevideos.com
Posted Aug. 8, 2014 @ 7:53 am
Updated at 8:40 AM


ROCKLAND - The state fire marshal's office is trying to determine what sparked a two-alarm blaze that damaged a vacant town building on East Water Street early Friday morning.

Lt. Dave Wooley said firefighters found heavy fire in a two-bay garage and second-floor office at 96 East Water St. after receiving a 911 call around 12:30 a.m. Friday. He said no one was in the building and no firefighters were injured putting out the blaze.

"There was pretty significant damage throughout that garage area and the second floor above it," he said.

Wooley said firefighters were at the scene until a little after 5 a.m. He said the building was previously used by the town's water department.

---
By Cody Shepard
The Patriot Ledger Posted Jul. 16, 2014 @ 8:41 am
Updated Jul 16, 2014 at 11:10 AM

ROCKLAND – Fire officials say one person suffered non-life threatening injuries in a single-car rollover accident on Route 3 North near exit 14 on Wednesday morning.

A male driving a four-door car rolled over around 7:35 a.m. The car rolled off the right side of the road and into the embankment, Rockland Fire Captain Thomas Heaney said. He said he right lane and breakdown lane were both closed for almost 40 minutes until the scene was cleared at 8:12 a.m.

Heaney said the man was taken to South Shore Hospital with non-life threatening injuries. He said the cause of the accident is undetermined.

Heaney said traffic was backed up more than a mile and a half to Route 53 in Hanover.

State Police also responded to the accident.

---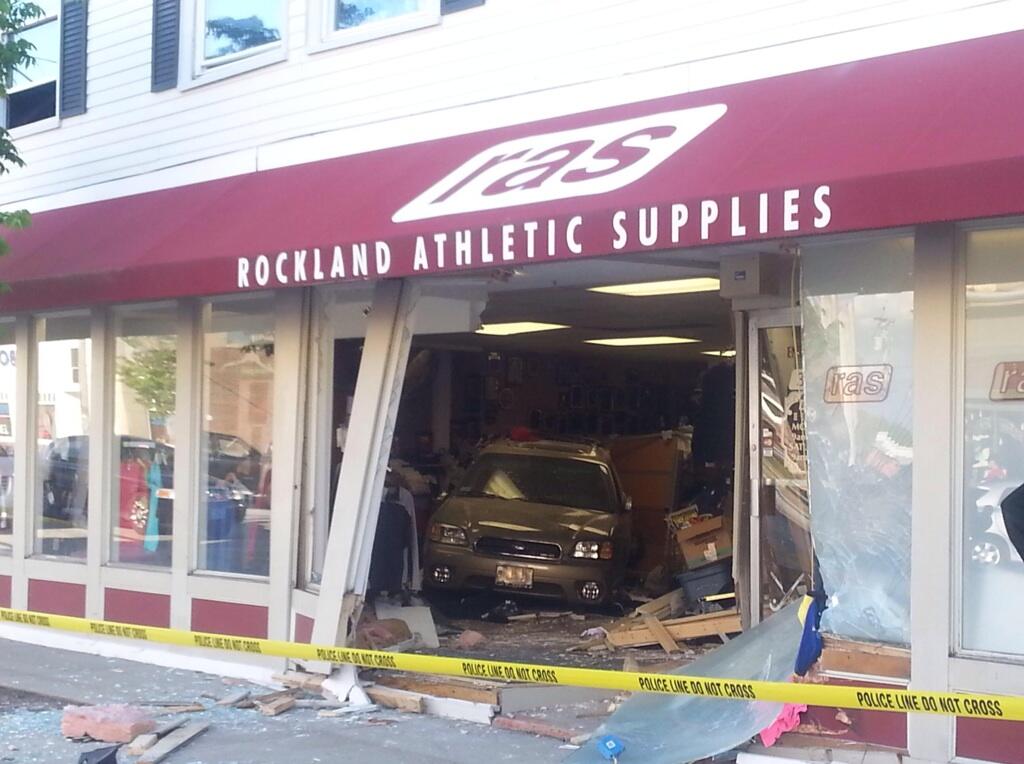 Posted Jun. 6, 2014 @ 9:33 pm
Updated at 9:37 PM

ROCKLAND – Two people suffered non-life-threatening injures when a car backed across Union Street and into a storefront, a fire official said.

Lt. John Sammon of the Rockland Fire Department said the accident occurred at about 6 p.m. at Rockland Athletic Supplies, 320 Union St.

The car was in the parking lot of a shopping center across the street from the store and backed up across the lot and across Union Street before striking the front of the building, he said.

"There's extensive damage to the front of the building," Sammon said.

The car's driver and a passenger were injured. They were taken by ambulance to Brockton Hospital, Sammon said. No one in the store was injured, he said.

The cause of the accident is under investigation by Rockland police, Sammon said.
---
BMW rear-ends tractor trailer, driver seriously injured
PUBLISHED: MAR 14, 2014 1:38 PM
UPDATED: MAR 14, 2014 1:38 PM
The driver of a BMW was seriously injured late Friday morning when his car rear-ended a tractor-trailer on Route 3 in Rockland. State Police spokesman David Procopio said the accident occurred at 11:45 a.m. in the left, northbound lane of Route 3, near exit 14.He said the crash sent both vehicles onto the highway's median strip. The tractor-trailer driver wasn't injured, but the male driver of the BMW was taken to South Shore Hospital.The identity and hometown of the injured driver weren't immediately available.The northbound left lane continues to be closed while State Police investigate the cause of the accident. Procopio said the right lane is open.
---
Click the play button for a live scanner feed of Rockland Fire