Rest In Peace Robert Nyman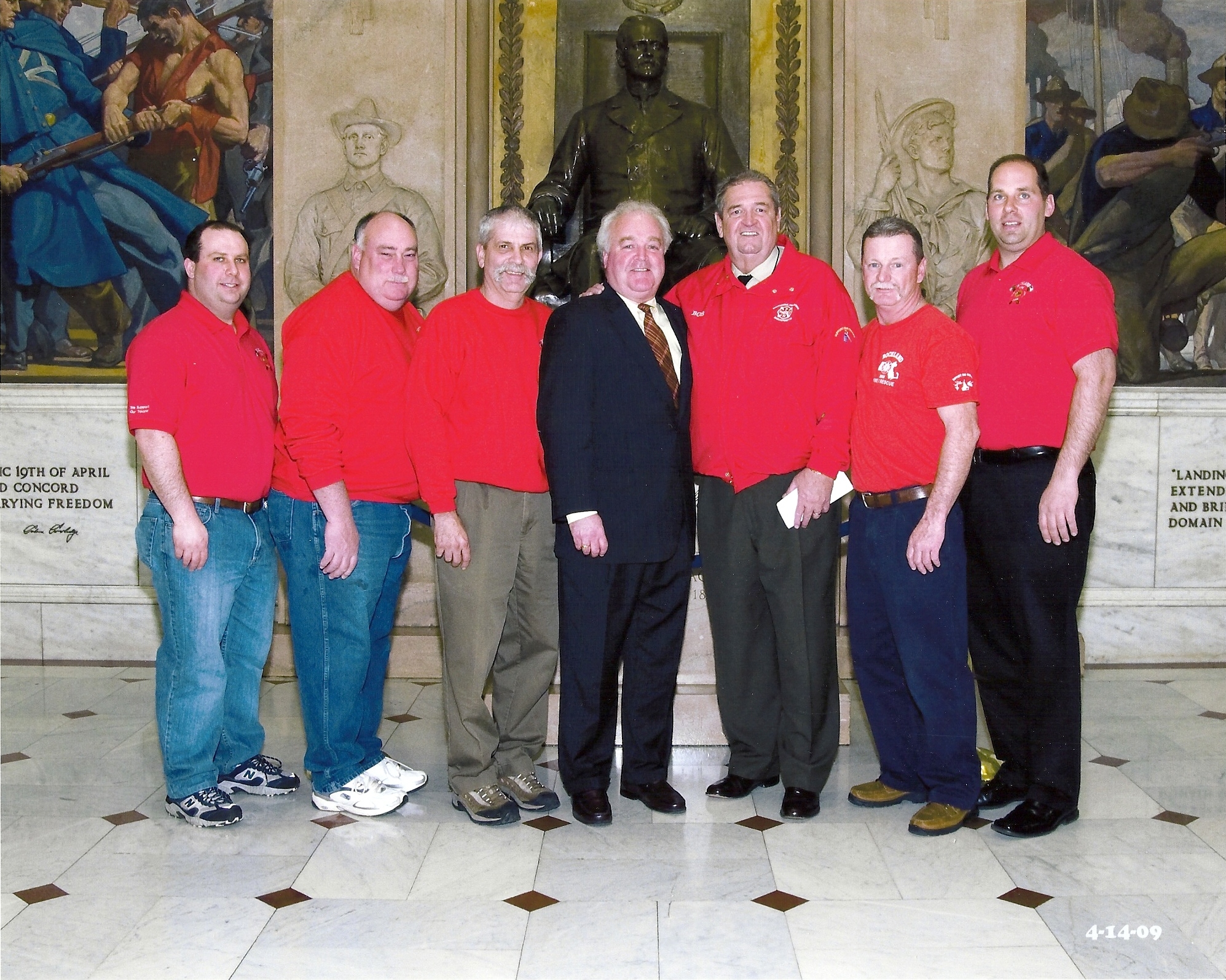 Rep Bob Nyman (center) with PFFM President McCarthy and members of the Rockland Firefighters in 2009
HANOVER —

People across the South Shore are finding comfort in sharing their favorite stories about Robert Nyman, the popular six-term Democratic legislator who died Friday in an accidental drowning at his home. This week they will have the opportunity to tell more stories and to honor his memory.

Nyman's family is following his wishes and will hold two wakes for him Tuesday and Wednesday at Hanover Town Hall, where he began his public service career 31 years ago as a 19-year-old on the school committee.

Town officials met with the family Sunday to plan for the wakes from 4 to 8 p.m. Tuesday and Wednesday at town hall at 550 Hanover St.

Selectmen Chairman David Greene said the town will arrange for shuttle buses from the new senior center because "Bobby was such a friend to the elderly and we expect a lot will want to go."

There will also be buses at some of the schools to help transport people.

"We just have no idea how many people to expect," Greene said. "We want to do this right and honor Bobby and the family's wishes. We are very humbled and very proud to do it."

Information will be posted and updated on the Hanover town website today.

The funeral Mass will be at 11 a.m. Thursday at St. Mary of the Sacred Heart Church at 392 Hanover St. There will be a gathering afterward in the parish hall.

Tributes poured in over the weekend from Gov. Deval Patrick, House Speaker Robert DeLeo,Senate President Therese Murray and the hundreds of people whose lives he touched.

Nyman is being remembered as a principled man who loved his family, was a hard-working and "true public servant," and didn't consider any request for help too insignificant or small. He was widely liked and known as kind but also funny, fun to be with and quick with the barbs behind the microphone at a roast.

Residents said he came through when it counted: $200,000 for the new senior center when it needed state help to get off the ground, funding for the new Hanover High School now being built, and for long-needed improvements to Route 53.

On Saturday at the Nyman home, his oldest daughter, 19-year-old Krista Nyman, called her father "just perfect as a dad. ... It was cool growing up with him."

His family had long realized that he understood the way the smallest things matter the most to people.

"It helps to see how people can live through the memories of him and to see how many lives he touched," Krista said. "That is what is keeping me going. "

Two weeks ago, Nyman was emcee at the celebration of the new senior center, whose initial funding he helped secure.

"He was at just about every function the town had over the years," senior Al Taylor said Saturday. "Any meetings, he was there."

Taylor said when he asked Nyman to speak to his class at the UMass- Boston gerontology program, "he came and the class loved him."

Friday night, as word spread about Nyman's death, DeLeo said "calls kept coming in and virtually every one began by saying that he had been 'a good guy.'"

Friday, Nyman attended a meeting for a charity golf event, then returned from the golf course at 1 p.m. and left sometime later. When his family came home at 8:30 p.m. they found him in the pool and called 911. A neighbor attempted CPR, but he was pronounced dead at South Shore Hospital in Weymouth shortly after 9 p.m.

The Plymouth County district attorney's office has ruled it an accidental drowning.

The governor had planned to go to Hanover on Saturday to campaign with Nyman during the town's Hanover Days events. Instead, he paid a 15-minute condolence visit to the Nyman home Saturday afternoon and was hosted at Hanover Days by the town cultural council.

"I had a longtime plan to be here today with my longtime friend, Bobby Nyman," Patrick told the crowd. "We are all mourning the profound loss to everyone. ... He loved you and he loved this town. Rhonda (Nyman's wife) and the girls can count on you all to support him. I know he is here in spirit."

Nyman's youngest daughter is Kara, 17.

Donations can be made to the Cardinal Cushing School at 376 Washington St. in Hanover. McDonald Funeral Home in Weymouth is handling the funeral arrangements.

Sue Scheible may be reached at sscheible@ledger.com.

*********************************************************************************************************

Robert Nyman's key accomplishments:
Six-term Democratic state representative from the 5th Plymouth District (Hanover, Rockland and Norwell), 1999-present.
1978 Hanover High School graduate.
Hanover School Committee, 1979-84.
Hanover Board of Selectmen, 1984-87, 1993-99.
Plymouth County Charter Commission, 1988-90.
Founder of the Howie Nyman Memorial Scholarship Fund.
Helped secure funding for new Rogers Middle School and renovated high school in Rockland, and a new high school in Hanover.
Supporter of and helped secure state funding for the new Hanover Senior Center.
Supporter of stem-cell research to help local families dealing with diseases.
Supporter of Norwell's Friendship Home.
Helped secure funding to renovate Rockland Veterans' Stadium.