Firefighter Fitness Challenge
Updated On: May 123, 2010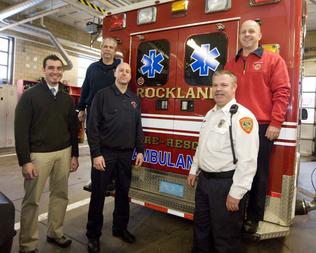 Wicked Local Photo By Laura Sinclair
From left, Jamie McCourt (BCBS), John Sciara, Scott Margolis, Lt. John Sammon, Dan DelPrete
Rockland firefighters are taking a fitness challenge. The Professional Firefighters of Massachusetts is endorsing the challenge, being sponsored by Blue Cross Blue Shield. Rockland is competing against other firefighters in Hingham, Peabody, Framingham, Arlington, Hudson, and Ludlow.
Just for the health of it: Rockland firefighters up against other towns in competition
By Mikaela Slaney
Wed Jan 13, 2010, 04:12 PM EST
Rockland -
Rockland firefighters are watching their steps this week, and they're not the only ones.
Fifteen members of the Rockland Firefighters Union volunteered this week to compete in a firefighter challenge against seven other participating towns in a competition to track their health, using a step-tracking device provided by Blue Cross Blue Shield of Massachusetts.
"It's the first time this has been done," Firefighters Union President Marc Oshry said. "It's about the size of a car remote, and it tracks how many steps you take per day and upload it into a computer. Then you can see exactly when you did it, what you did at the gym, and you say 'jeez, I need to walk more.' It's not about running a 20-mile marathon, it's about getting us active."
This week the firefighters participated in a prescreening Jan. 8, provided by Blue Cross.
"They measured some of the biometrics, our weight, our body mass—at the end of the 12-week program competition, they'll be doing the same thing," Oshry said. "At the end, the union with the highest average will win a $2,000 prize, and there are individual prizes for sub-categories such as most improvement. We asked everyone if they wanted to do it, and some people didn't want to do it for particular reasons, but it's not required."
Rockland's firefighters are competing against Arlington, Framingham, Hingham, Hudson, Ludlow and Peabody.
But more importantly, Oshry said, they'll be competing against themselves.
"I found that since I'm seeing it, I'm thinking 'I need to walk a little more, and maybe I should walk on the treadmill, or walk around the station,'" he said.
Blue Cross is also providing participating towns a personal trainer to meet with firefighters and show them exercises to train themselves, and a nutritionist who will be conducting cooking demonstrations.
"We're looking forward to a lot of these little things they're doing for us," Oshry said. "The healthier we become, the less claims and injuries we have, the better overall for everybody. So getting us active, getting us healthy, not only benefits us but the towns and the insurance companies."